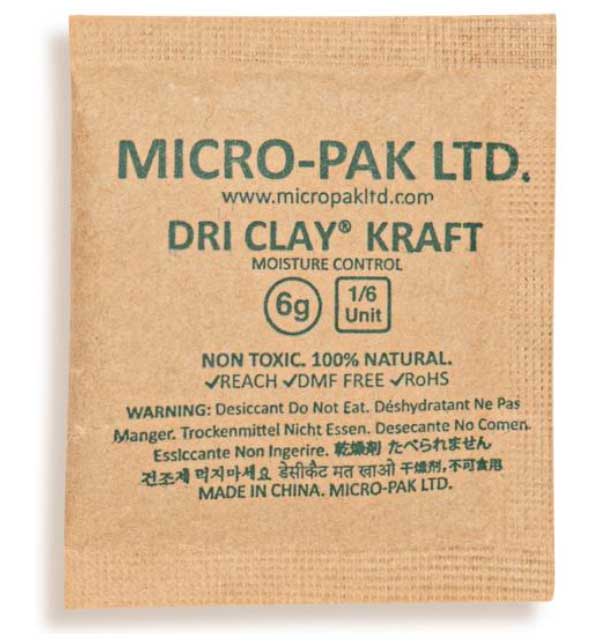 MICRO-PAK DRI CLAY
Micro-Pak Dri Clay™ is a 100% natural, safe and effective bentonite clay desiccant that protects products from moisture damage. Moisture can quickly destroy many kinds of products during storage and shipping by causing mold, mildew, rust, corrosion, as well as device malfunction in electronic products. Micro-Pak Dri Clay™ adsorbs moisture from the air inside packages to prevent moisture damage, and is critical to maintaining product quality and shelf life.
Micro-Pak Dri Clay™ is safer, better performing, more economical and more environmentally friendly than other types of desiccants including silica gel and calcium chloride as outlined in detail below.
Micro-Pak Dri Clay™ can be used on a wide range of products including but not limited to textiles, leather goods, electronics, metal components, foods, pharmaceuticals, and medical devices. The five sizes of Micro-Pak Dri Clay™ enable you to select the most suitable sized desiccant for your particular item and packing method.
Micro-Pak Dri Clay™ can be used together with Micro-Pak® Stickers and Micro-Pak® PE Sheets. In doing so your products will have the combined benefit of both anti-mold and anti-moisture protection.
Manufactured by a leading Swiss chemicals company, Micro-Pak Dri Clay™ is sourced from sustainable mines using only the top grades of bentonite clay that meet demanding adsorption requirements.