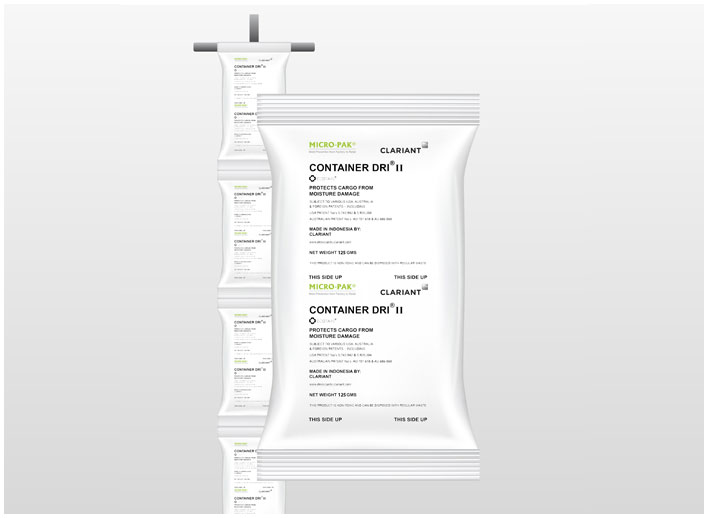 MICRO-PAK CONTAINER DISICCANTS
Micro-Pak container desiccants are a safe, effective and advanced solution for moisture and humidity control. They aggressively remove moisture from the air inside containers to prevent container rain, thereby protecting products from all forms of moisture damage and creating an environment inside the container that is less suited to mold growth.
Manufactured by Clariant, one of the world's largest specialty chemical companies and a leader in the desiccant field, the specially formulated ingredients in Micro-Pak container desiccants will absorb more moisture, faster, and for longer than comparative products on the market, allowing you to reduce the quantity of desiccant needed per container. Enjoy unsurpassed moisture control at a minimum cost.
Micro-Pak container desiccants come in strips comprising 4 x 125 gram Tyvek desiccant bags, a non-woven sleeve designed to maximize absorption, and a hook for easy installation and removal.
Micro-Pak container desiccants are designed to supplement Micro-Pak® Stickers and Micro-Pak® Sheets, giving you a combination of anti-mold products inside the packaging and anti-moisture products inside the container.